EZ Sap Sack Holder Kit
Assembly Instructions
Step 1
Place EZ Sap Sack Holder inside top of bag, with bag even with top of holder. Keyhole must be on upper end near top of bag.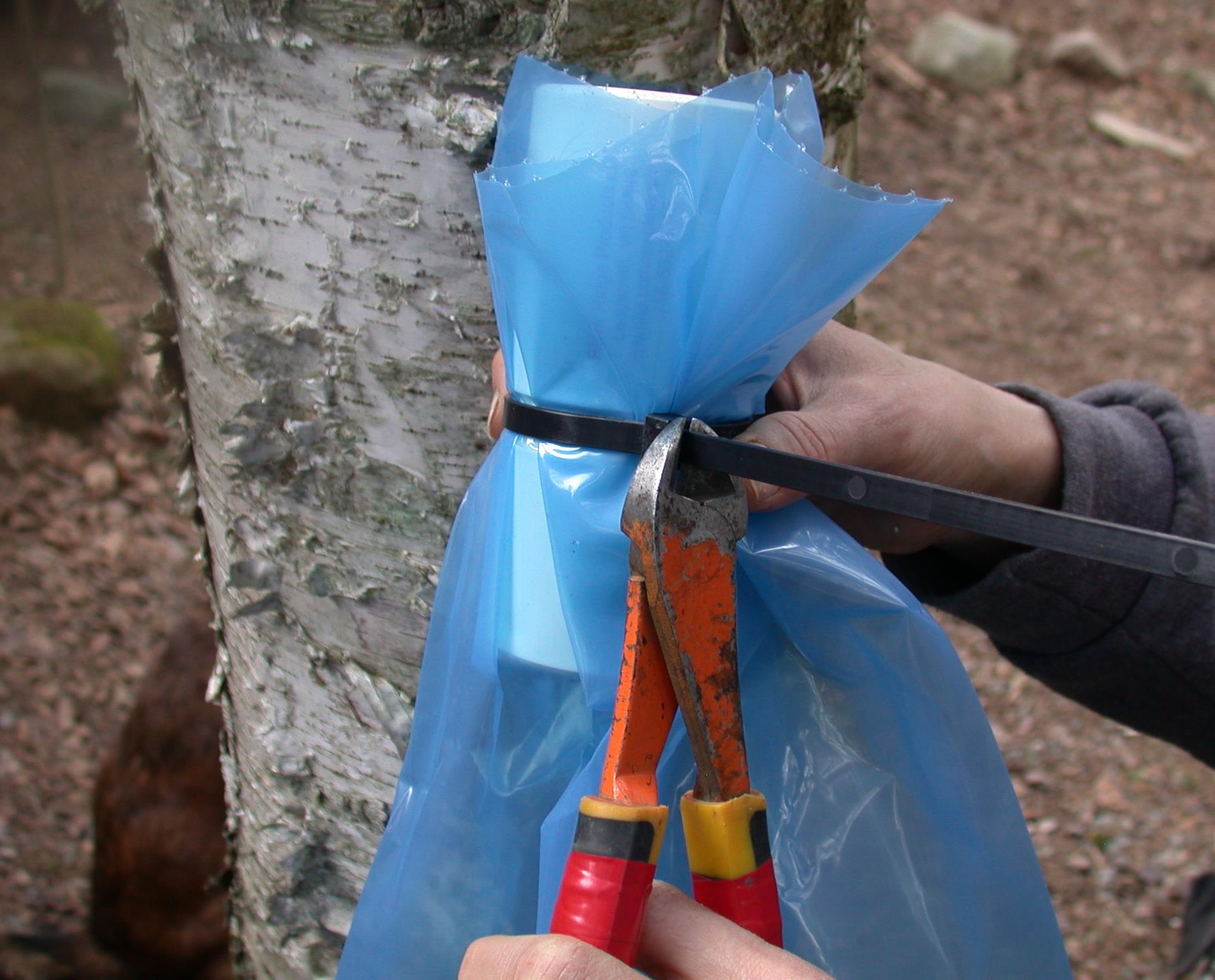 Step 2
Place a cable tie around holder and bag. The tie must be in the groove on the holder or the bag will slip off. Note that the serrated side of the cable tie faces out.
Turn the cable tie so the head is opposite the keyhole, and pull the cable tie tight. Trim off tie end with end cutters (not included).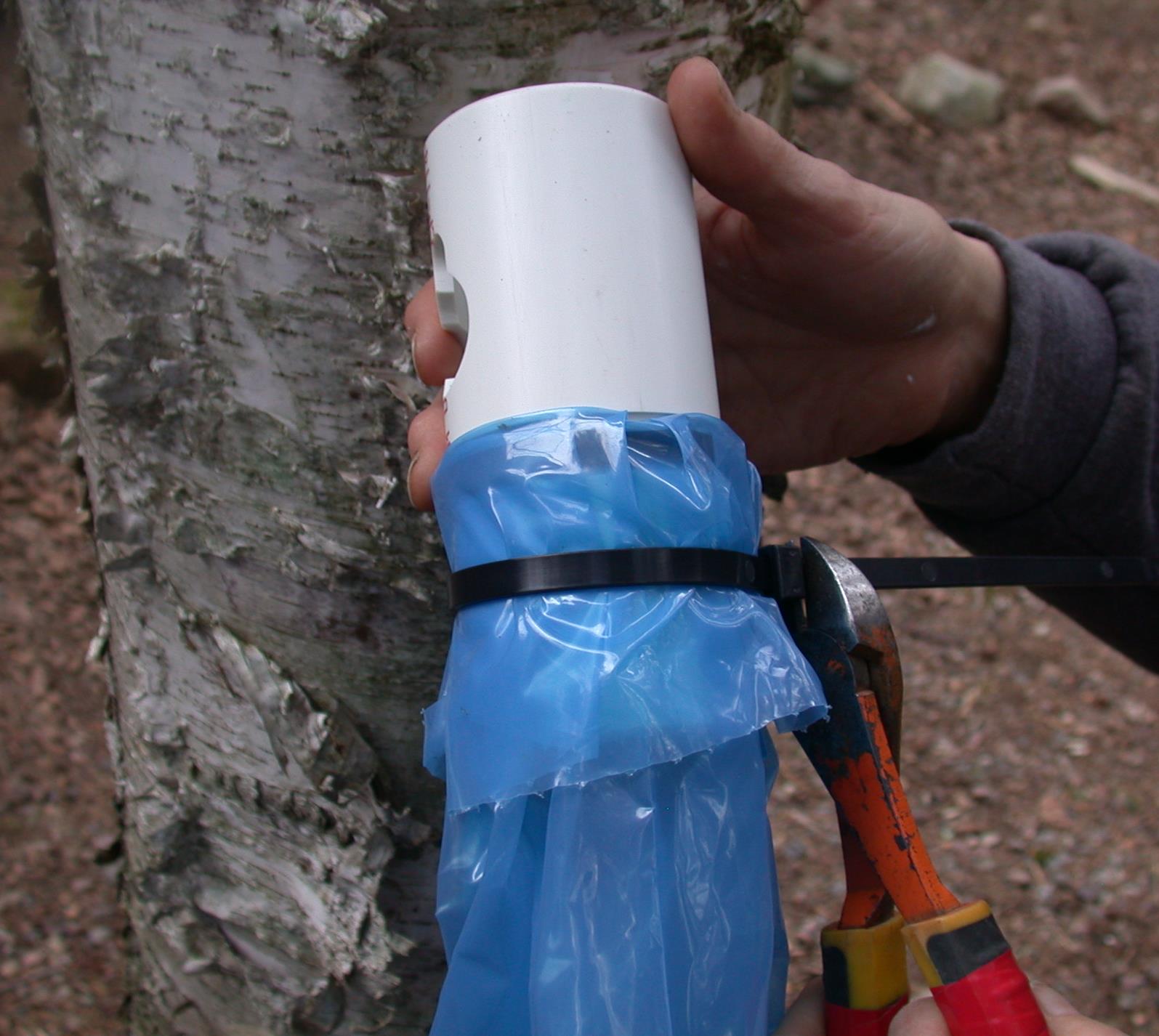 Step 3
Fold the bag top down and over the cable tie. Work it down until it is somewhat snug and secure with a second cable tie. Note that there is not a groove for this tie. About an inch below the first tie is fine. As before, twist the cable tie so the head is opposite the keyhole. Pull the tie tight, and cut off the tie end.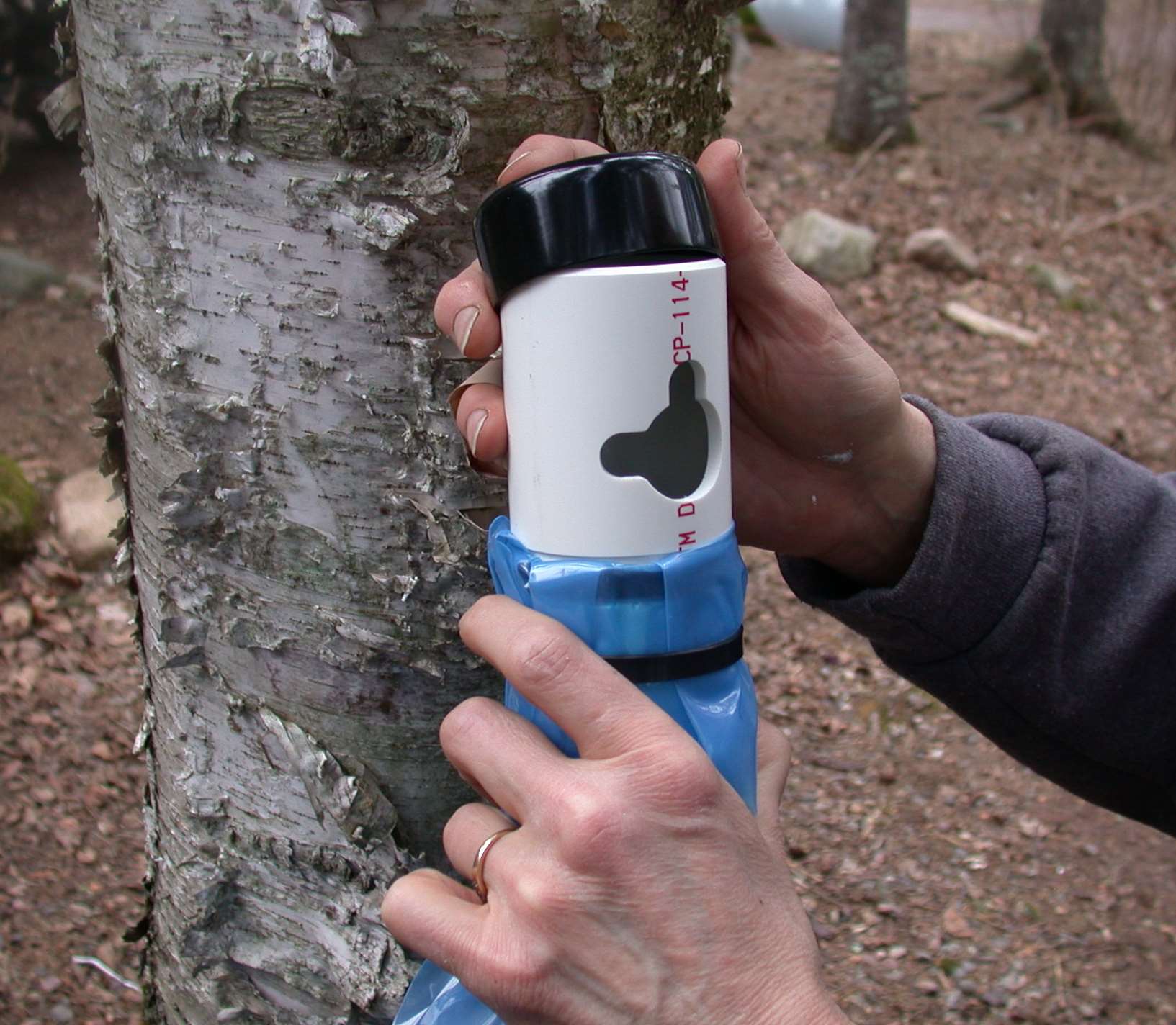 Step 4
Slide on flexible vinyl cap.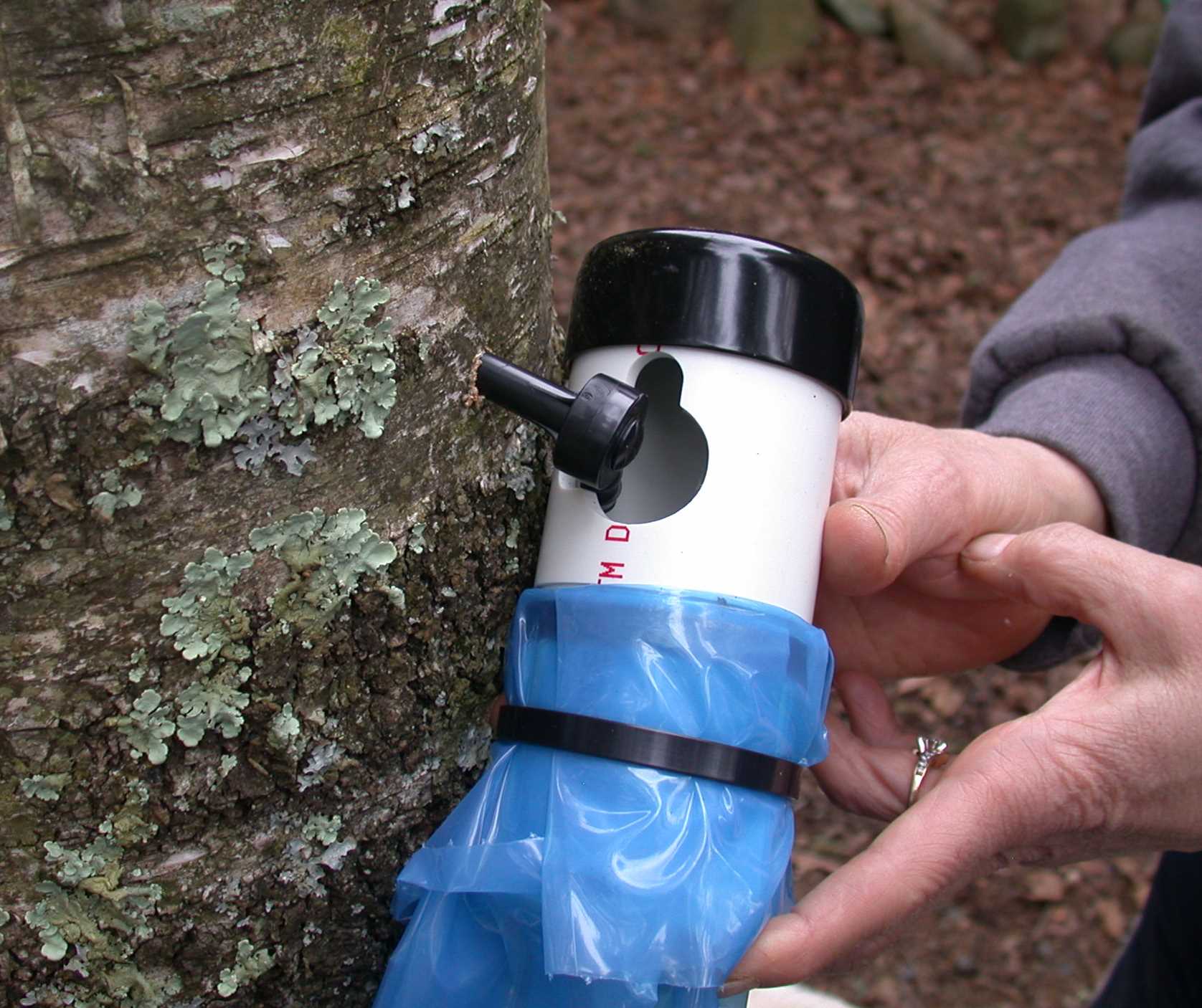 Step 5
The horizontal slot in the keyhole is clearance for the unused tube nipple of the tap.
Note that the hanger is much easier to install if about an inch of  the 5/16″ nose of the tap is protruding from the tree. If you drill a true straight hole with a 5/16″ drill bit this is where the tap will normally tighten.
Note that it is often easier to attach and remove holder if the tube nipple is turned about 30 degrees left or right from the straight down position.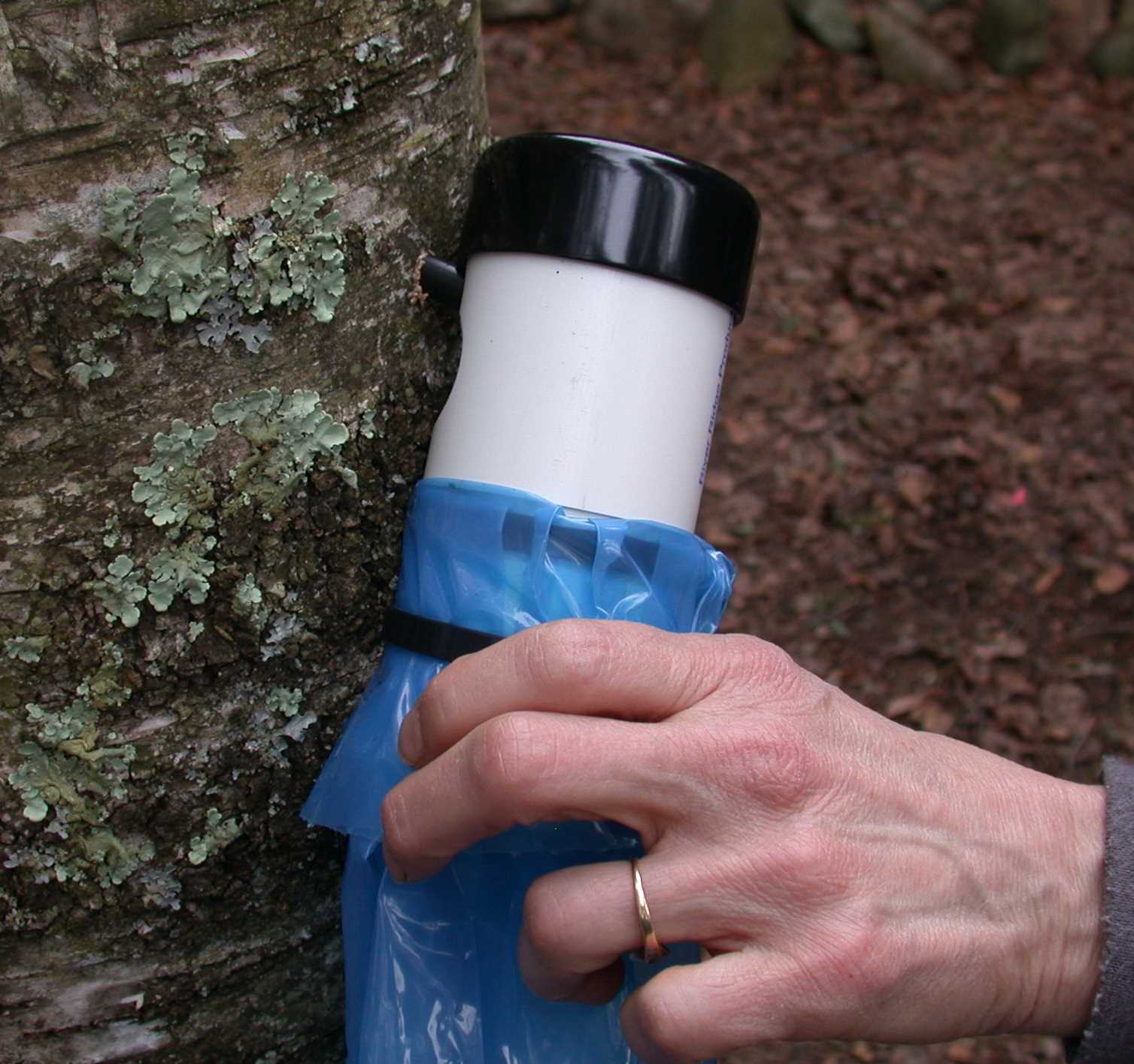 Step 6
The easiest method to attach is to turn the holder horizontal to the tube nipple, and slide holder over tap. Then turn holder straight vertical and slide holder down until it catches in the keyhole.
Have Questions? Phone Us At: (715) 532-3015
Return Policy: 
We stand behind our products and services 100%. If you are not satisfied with your purchase, please give us a call, 715-532-3015, and we will exchange, give credit, or refund your purchase. If you're not satisfied with any standard product, return it for an exchange or refund whichever you choose. You are responsible for the return shipping charges except for defective product or product that is not the item you ordered.  Returns are accepted up to 30 days from the invoice date. We reserve the right to refuse returns on custom items or special order products. Please send any returns to:
Returns Department, River Ridge Products LLC, W6659 Cozine Rd, Ladysmith, WI 54848.