Novus® Plastic Polish
Novus Plastic Polish can be used on the lathe to achieve a high gloss on Dymondwood and AcryliWood.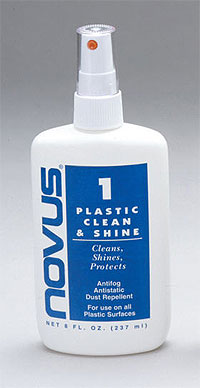 Novus #1 (8 oz. bottle)
Gently cleans all plastics without scratching. Leaves a lustrous shine that resists fogging, repels dust and eliminates static. For woodturners, use after Novus #2. This product will remove any haze or streaking left over from the #2.
Price:

Novus #1:

$4.95 Each

Novus #1 and #2 Set:

$10.70 – Buy both and save 10%!
 
Novus #1 and #2 Set:
Buy both and save 10%!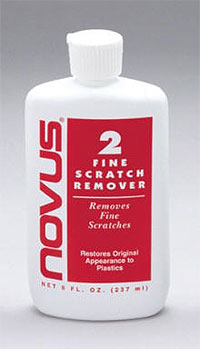 Novus #2 (8 oz. bottle)
Removes fine scratches, haziness and abrasions from most plastics. For woodturners, use on Dymondwood and AcryliWood resin stabilized wood after wet sanding to at least 1200 grit. Apply with Polish Mates or cotton cloth. May be applied by hand on directly on the lathe. Novus is essentially a plastic buffing compound in an easy to apply liquid base.
Price:

Novus #2:

$6.95 Each

Novus #1 and #2 Set:

$10.70 – Buy both and save 10%!
 
Novus #1 and #2 Set:
Buy both and save 10%!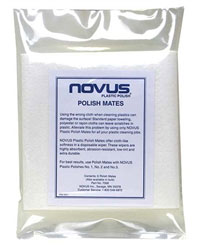 Novus Polish Mates 6 pack (disposable polishing towels)
The type of polishing cloth you use will make a difference. This ideal cloth is nonabrasive, absorbent, and lint free. To eliminate any chance of scratching, use only disposable cloths. Reusable cloths can retain abrasive particles. If NOVUS Polish Mates are not available, use a soft cotton cloth (such as a diaper), avoid using polyester or rayon wipes which can scratch.
Price:

Novus Polish Mates, 6 Per Set:

$3.95
 
Have Questions? Phone Us At: (715) 532-3015!
Return Policy: 
We stand behind our products and services 100%. If you are not satisfied with your purchase, please give us a call, 715-532-3015, and we will exchange, give credit, or refund your purchase. If you're not satisfied with any standard product, return it for an exchange or refund whichever you choose. You are responsible for the return shipping charges except for defective product or product that is not the item you ordered.  Returns are accepted up to 30 days from the invoice date. We reserve the right to refuse returns on custom items or special order products. Please send any returns to:
Returns Department, River Ridge Products LLC, W6659 Cozine Rd, Ladysmith, WI 54848.